requests

Want to hear something in particular? Then request it from the on-air dj.

Start by typing in the artist:


Radio News
Assassin's Creed III Revealed at PAX East 2012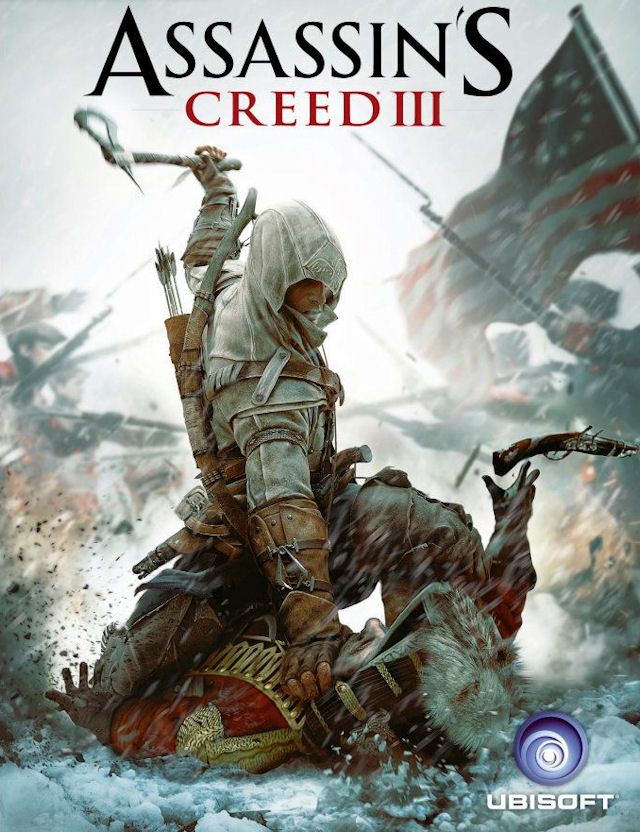 PAX East is over for this year, but there were certainly more than a few titles on the show floor to get excited for! The Ubisoft folks had a massive demo booth for the next in the Assassin's Creed franchise set up, and yours truly got in to witness the reveal personally!
Assassin's Creed made its mark on the action/platforming genre back in late 2007 with the first installment in the series, letting gamers take on the roll of Desmond Miles, decendant of a long line of assassins who is forced by the Abstergo corporation to relive the life of his ancestor Altaïr, an assassin fallen from grace within his order by his lack of committment to the code of conduct that all his kind were to follow. With the Animus, a device that can access the genetic memory of anyone placed within it, Desmond is thrown into the past to uncover a secret of Altaïr's past.
In Assassin's Creed II (AC2) you take the role of Ezio Auditore da Firenze, another of Desmond's ancestors, and continue the saga where the first story left off. Set during the Italian Renaissance, Ezio must avenge his father's murder and uncover secrets to a powerful organization looking to control artifacts of mysterous power.
The Assassin's Creed III (AC3) demo doesn't touch on the previous story. I'm guessing they want to reveal that later, but what it DOES show is that the next title in the series will not be perhaps, so much revolutionary as evolutionary:
Environments are much more "organic" than the titles previous; framed during the height of the Revolutionary War, there is much in the way of untamed wilderness to be navigated. Trees and rock formations feel more true to life, and offer a number of alternate paths for the player to take to reach their objectives. Players can "trunk-around" (i.e. slide around the trunk of a tree to reach branches on the opposite side), hand-over-hand through overhanging branches to navigate trees, and cracks and small fissures in cliffs allow multiple handholds and paths up, over, and around rock faces.
Crowds will be massive this time around: during the demo, something like 2,500 individual characters were on the screen at once, each carrying out their own actions independent of what the player was doing. In the previous incarnations of the series, perhaps a fraction of that - maybe 200 characters - were on-screen at a time. This shows that the Ubisoft team has seriously beefed up their engine, in an attempt to give the player a sense of the kind of scope of the conflict they will be embroiled in; AC3 will be the franchise's first time when the player will not be facing off against just a dozen or so opponents, but rather entire armies.
Character animations are more nuanced: Connor (or Ratohnhakéton as he's known to the native tribes of the time) the main protagonist this time around acts and reacts to his environment in a much more life-like way; flinching at close explosions, peering around corners, and small, idle animations make Connor more a person than a weapon that happens to be ambulatory. Also, Connor is very much an "on the move" assassin; towards the end of the demo, we were treated to a takedown that involved sprinting from cover, taking down a soldier in our path and proceeding straight to the assassination target, then to a nearby horse to make our escape, with virtually no pause. It flows together so well it was more like one continuous action rather than a series of them.
AC3 also introduces more clever weapons and nuanced enemy AI: the Rope-dart - specially featured in the demo - lets Connor impale-then-drag a target through the environment. If used from atop a tree limb, as it was during the demo, it allows you to get the drop on your opponents by hanging one of them and using the momentum of your drop into combat to incapacitate or kill them, then immediately close to combat with the rest. Enemies will, if armed with muskets and standing at a distance form a firing line to riddle Connor with lead. Even at such a disadvantage Connor is primarily a melee fighter, the half-British, half Native American assassin has options; he can, if another enemy is within grabbing range, use said enemy as a human shield to get closer and absorb whatever gunfire he comes under until he can close to melee range.
The trademarked counters and finishing moves in the game have gotten more polish, and further emphasize Connor's "on the move" fighting style. Combat strikes and blocks flow like water, one into the next, with only a slight pause to deliver devistating killing blows or disables; a hatchet blow to the small of the back, severing the spine; using one soldier's bayonet to run another through while he's still holding the rifle; vicious knee-blows to the face of another soldier, stunning him, to set him up of a coup de grace. AC3's combat is as beautiful to watch as it is brutally effective.
Needless to say, I was seriously impressed by the demo; I don't know about you guys and gals out there in SIRadioland, but this is one gamer looking eagerly forward to 2012's fall game release season. Assassin's Creed III is sloted for a later October 2012 release.
---